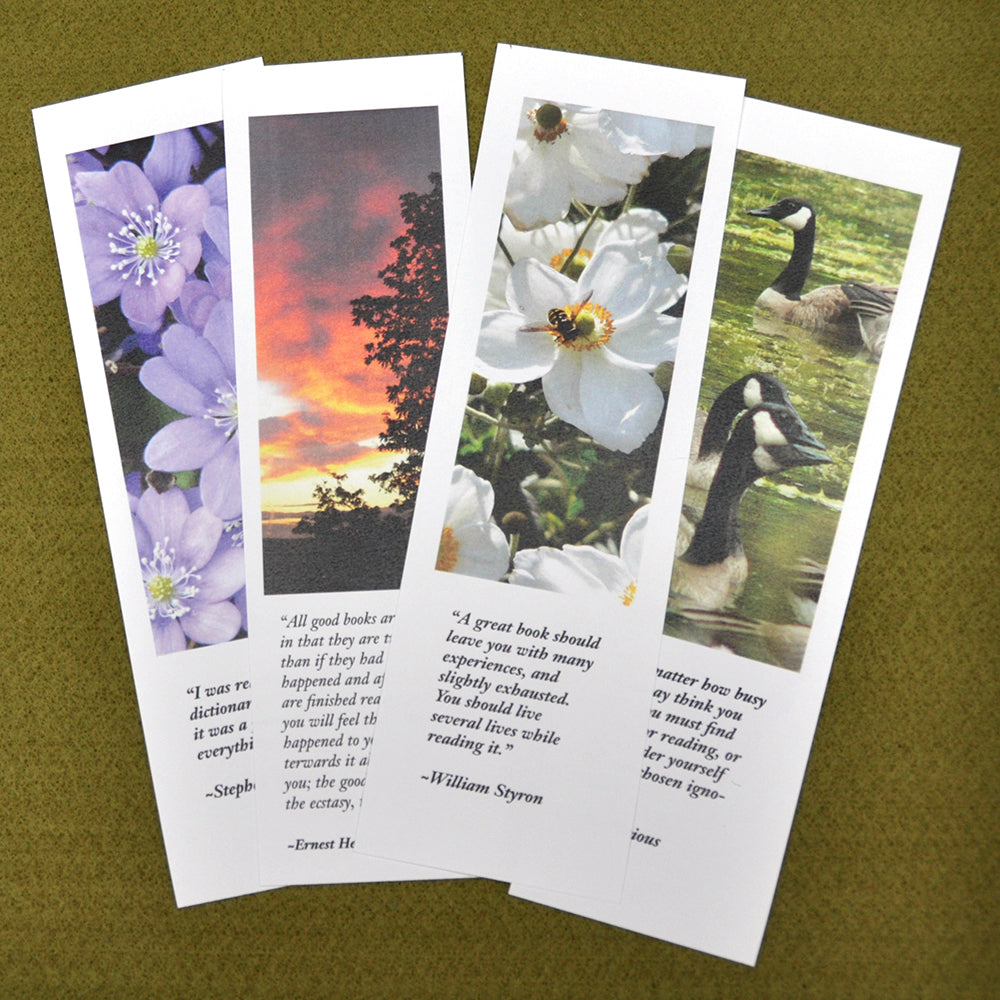 Bookmarks, Set of 4 - Set 1
Bookmarks to Help Fight Hunger!

Covid-19 has increased food insecurity across the country. Here's a small way to help with the effort to feed people in need!
Each bookmark in this set is printed with a photograph taken in our garden, and a quotation from an author about books or reading. Each bookmark measures 8.5"x2.5", and is printed on sturdy card stock.
This set includes:
- Hepatica flowers, "I was reading the dictionary. I thought it was a poem about everything." - Stephen Wright
- Sunset from the garden, "All the good books are alike in that they are truer than if they had really happened, and after you are finished reading one you will feel that all that happened to you and afterwards it all belongs to you; the good and the bad, the ecstasy, the remorse." - Ernest Hemingway
- Anemone flowers with bee, "A great book should leave you with many experiences, and slightly exhausted. You should live several lives while reading it." - William Styron
- Geese on our pond, "No matter how busy you may think you are, you must find time for reading, or surrender yourself to self-chosen ignorance." - Confucious
For each $6.00 set you buy (including FREE SHIPPING), $5.00 will be donated to Feeding America.
Feeding America is a United States-based nonprofit organization with a nationwide network of 200 food banks and 60,000 food pantries and meal programs. Charity Navigator gives them a 4 out of 4 star rating (94.28 overall score). According to Feeding America, they provide 4.3 billion meals each year. A $1 donation equals 10 meals. That means that by buying this item you will pay for 50 meals!  What a great way to help out AND get some pretty bookmarks to use or give as gifts. Great stocking stuffers!

https://www.feedingamerica.org/
Shipped via First Class Mail in a standard business envelope.