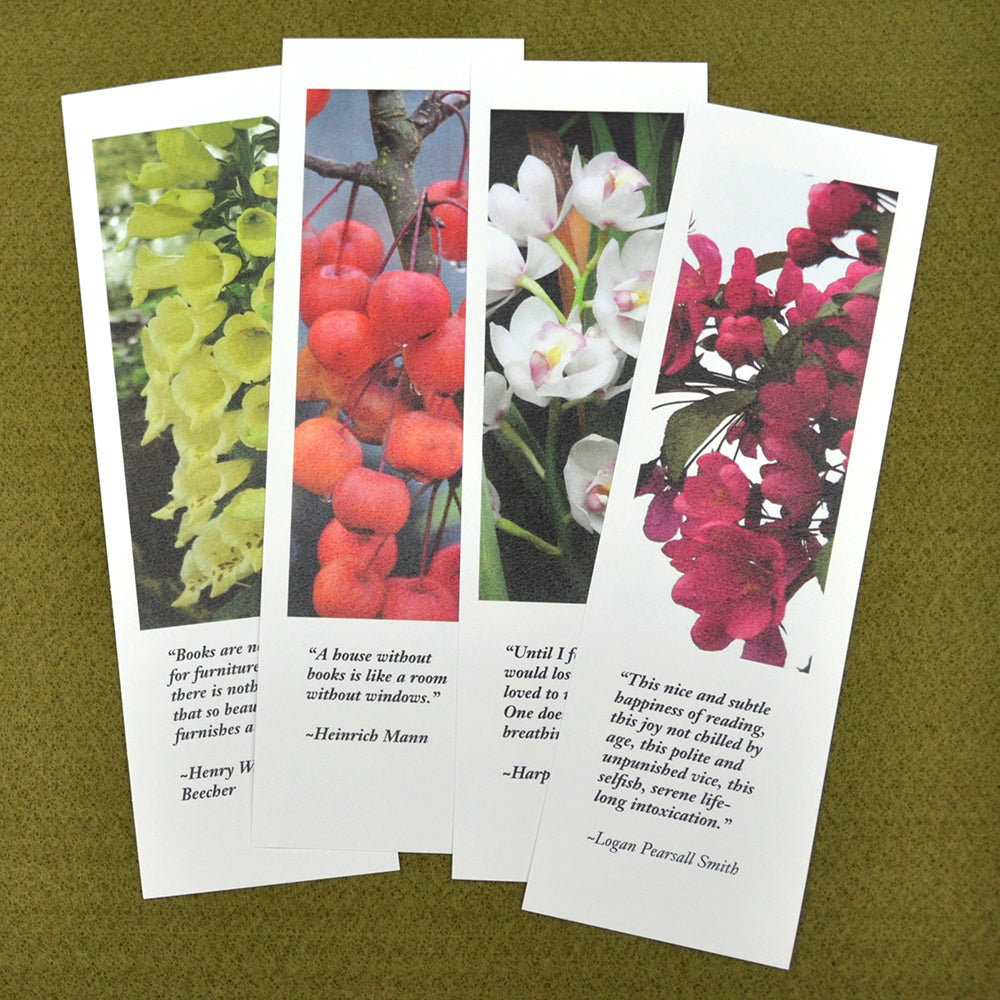 Bookmarks, Set of 4 - Set 2
Bookmarks to Help Fight Hunger!

Covid-19 has increased food insecurity across the country. Here's a small way to help with the effort to feed people in need!
Each bookmark in this set is printed with a photograph taken in our garden, and a quotation from an author about books or reading. Each bookmark measures 8.5"x2.5", and is printed on sturdy card stock.
This set includes:
- Digitalis flowers, "Books are not made for furniture, but there is nothing else that so beautifully furnishes a house." - Henry Ward Beecher
- Crab apples, "A house without books is like a room without windows." - Heinrich Mann
- Orchid flowers, "Unitl I feared I would lose it, I never loved to read. One does not love breathing." - Harper Lee
- Crab apple flowers, "This nice and subtle happiness of reading, this joy not chilled by age, this polite and unpunished vice, this selfish, serene lifelong intoxication." - Logan Pearsall Smith
For each $6.00 set you buy (including FREE SHIPPING), $5.00 will be donated to Feeding America.
Feeding America is a United States-based nonprofit organization with a nationwide network of 200 food banks and 60,000 food pantries and meal programs. Charity Navigator gives them a 4 out of 4 star rating (94.28 overall score). According to Feeding America, they provide 4.3 billion meals each year. A $1 donation equals 10 meals. That means that by buying this item you will pay for 50 meals!  What a great way to help out AND get some pretty bookmarks to use or give as gifts. Great stocking stuffers!

https://www.feedingamerica.org/
Shipped via First Class Mail in a standard business envelope.